Here is a list of the MOST you can fit into each size box (depending on fabric thickness). For more specific questions about your order, please contact us.

PADDED FLAT RATE ENVELOPE (PFRE): up to 4 yards *$7.55 domestic 
MEDIUM FLAT RATE BOX (MFRB): up to 7-10 yards *$13.20 domestic 
LARGE FLAT RATE BOX (LFRB): up to 14-20 yards *$18.30 domestic 
*INTERNATIONAL RATES: We ship with USPS products. International shipping can be expensive, but please be aware that we only charge what USPS charges. We, unfortunately, do not make these rates or have control over them.

*PLEASE NOTE: Orders of 40+ yards are over our calculators max so shipping is not charged until we can get an exact assessment of the cost of shipping. In these cases, we will contact you when we have an exact shipping total for you.
These fabrics can be interchangeable at times. They are made in blends of poly spandex and sometimes with nylon. The presence of nylon makes for a "stiffer" stretch and is most frequently used in swimwear. Which means if you have a performance fabric with nylon, you can use it for swimwear.  These fabrics have great stretch and recovery as they are made to stretch with you as you move and return to their original shape.
What you can make: Workout clothing (sports bras, leggings, tops, shorts) and swimwear.
View All
Customer Reviews
Write a Review
Ask a Question
05/13/2021
Sallie S.

United States
Love this splatter performance!
This was the first time I bought from So Sew English,and I was not disappointed. This material was better then I expected it to be. It was very easy to work with,and had a nice compression, but not too much. I am very pleased with it and have made bike length shorts ,a tank,and a tee will be completed tomorrow.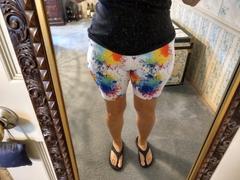 05/06/2021
Steven N.

United States
LOVE IT
Love this fabric, it feels so soft and wonderful and it doesnt curl when i cut it like most stretch fabrics
04/27/2021
Charity C.

United States
Vibrant Splashes of Color!
I love how vibrant this fabric is! This is my order from So Sew English Fabrics, and it makes me very Happy!